About the Authors and Contributors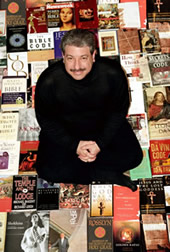 Listed Alphabetically

Apostolos-Cappadona, Diane
Baigent, Michael
Bard, Elizabeth
Berger, Paul
Bernstein, Amy D.
Bernstein, Peter W.
Budd, Denise
Burstein, David D.
de Boer, Esther
Castro, John
Devlin, Keith
Doll, Jennifer
Dowd, Maureen
Downie, David
Ehrman, Bart D.
Eisler, Riane
Ford, Marcia
Freke, Timothy
Gandy, Peter
Good, Deirdre
Hamilton, Bernard
Hansen, Collin
Haskins, Susan
Hoeller, Stephan A.
Jacobson, Rabbi Asher
Ludwig Jansen, Katherine
King, Karen L.
Kinkead, Gwen
Klinghoffer, David
Leigh, Richard
Lincoln, Henry
Maclean, Diane
Martin, James
McBrien, Richard P.
McDonald, Craig M.
McGuigan, Cathleen
McKay, Brendan
Miller, Laura
Nuland, Sherwin B.
Offman, Craig
Owens, Lance S.
Pagels, Elaine
Picknett, Lynn and Clive Prince
Purdue, Lewis
Robinson, James M.
Shugarts, David A.
Starbird, Margaret
Swan, Annalyn
Van Biema, David
White, Curtis
Wilk, David
Woodward, Kenneth L.


About the Authors and Contributors
Dan Burstein (editor) launched Squibnocket Partners as an innovative creative content development company in 2003 with his business partner, Arne J. de Keijzer. In 2004, they created the Secrets series, which, in addition to Secrets of the Code (first published in 2004), now includes Secrets of Angels & Demons (2004), Secrets of the Widow's Son (2005), and Secrets of Mary Magdalene (fall of 2006). Secrets books have found a place as the leading secular multiperspective guidebooks, appearing on the New York Times, Publisher's Weekly, USA Today, and Wall Street Journal bestseller lists, as well as other bestseller lists around the world. Taken together, the Secrets books now have more than two million copies in print in twenty-eight countries. A documentary film based on Secrets of the Code is currently in the works.
Maintaining an active full-time career as a venture capitalist (his "day job") in addition to his involvement with the Secrets series, Burstein is founder and managing partner of Millennium Technology Ventures, a New York–based venture capital firm that invests in innovative technology companies. He has served on the boards of more than a dozen early-stage companies and is currently a director of Applied Minds, a leading-edge research lab, and the Global Options Group, a publicly traded international risk management company. From 1988 to 2000, he was senior advisor at The Blackstone Group, one of Wall Street's leading private merchant banks. He is also a prominent corporate strategy consultant and has served as an advisor to CEOs, senior management teams, and global corporations including Sony, Toyota, Microsoft, Boardroom Inc., and Sun Microsystems.
Burstein is also an award-winning journalist and author of numerous books on global economics and technology. His most recent technology-related book is BLOG! How the Newest Media Revolution Is Changing Politics, Business, and Culture, co-written with David Kline. Burstein's 1988 book Yen!, about the rise of Japanese financial power, was an international bestseller in more than twenty countries. In 1995, his book Road Warriors was one of the first to analyze the impact of the Internet and digital technology on business and society. His 1998 book Big Dragon, written with Arne J. de Keijzer, outlined a long-term view of China's role in the twenty-first century that has, so far, turned out to be prescient.
Working as a freelance journalist in the 1980s, Mr. Burstein published more than a thousand articles in over two hundred publications, including the New York Times, the Wall Street Journal, the Los Angeles Times, the Boston Globe, the Chicago Tribune, New York magazine, Rolling Stone, Paris Match, Le Nouvel Observateur, L'Expansion, and many others in the United States, Europe, and Asia. He also served as a consultant to ABC News, CBS News, Time magazine, and other leading media organizations. Burstein has appeared on numerous TV documentaries and news specials, ranging from the History Channel to Charlie Rose, CNN, and Oprah.
Arne de Keijzer (managing editor) is a writer, former China business consultant, and Dan Burstein's partner in Squibnocket Partners LLC. He is author of three books under his name, including two books on doing business with China and a bestselling travel guide to China. Additionally, he has written four books with Dan Burstein, most recently as co-editor of Secrets of Angels & Demons. He was also a contributing editor to BLOG! How the Newest Media Revolution Is Changing Politics, Business, and Culture, The Rise, Fall, and Future of the Internet Economy (one of the Best Things Ever Said titles from Squibnocket Press), and Big Dragon: China's Future—What It Means for Business, the Economy, and the Global Order. His work has also appeared in a wide range of publications, from Powerboat Reports tothe New York Times.
Contributors
Diane Apostolos-Cappadona is an adjunct professor of religious art and cultural history in the Center for Muslim-Christian Understanding, and an adjunct professor and core faculty member in art and culture in the Liberal Studies Program, both at Georgetown University. Dr. Apostolos-Cappadona was guest curator and author of the catalogue for In Search of Mary Magdalene: Images and Traditions (2002). She is preparing the introduction for the reprint edition of Sacred and Profane Beauty: The Holy in Art by Gerardus van der Leeuw; two edited volumes, Sources and Documents in the History of Christian Art and Sources and Documents in the History of Religious Art in 19th-century America; and a textbook, The Art of the World's Religions. She teaches courses, including Art, Creativity and the Sacred, Eastern Orthodox Christianity: History and Theology, and The Medieval Synthesis: Art and Religion in the Middle Ages.
Michael Baigent, born in New Zealand in 1948, obtained a degree in psychology from Canterbury University, Christchurch. Since 1976 he has lived in England. He is the author of Ancient Traces and From the Omens of Babylon. He joined with authors Richard Leigh and Henry Lincoln on two international bestsellers, Holy Blood, Holy Grail and The Messianic Legacy. He has coauthored, with Richard Leigh, The Dead Sea Scrolls Deception, Secret Germany, and The Elixir and the Stone. His latest book, co-written with Richard Leigh, is The Inquisition.
Elizabeth Bard is a journalist and art historian based in Paris. Her art criticism and travel writing have appeared in the New York Times, the International Herald Tribune, the Washington Post, Wired, Art News, and Time Out, among others. She has served as the New Media editor of Contemporary, a London art magazine, since 2002. In the spring of 2004, she began working as a guide for Paris Muse, a company of art historians offering private tours of the great museums of Paris.
Paul Berger is a British freelance journalist based in Brooklyn, New York. His work has appeared in the New York Times, the Washington Post, the New York Press, Online Journalism Review, the Gotham Gazette, MovieMaker, and Denmark's Weekendavisen. He is a frequent contributor to Squibnocket projects, and is contributing editor to two books, Secrets of Angels & Demons and Blog! He writes a weblog under the pseudonym "Englishman in New York" at http://pdberger.com.
Amy D. Bernstein is a writer and academic who specializes in Renaissance literature. Her doctoral work comprised a new edition of the sonnets of Jacques de Billy de Prunay, a Benedictine monk and a bestselling author and translator of Gregory of Nazianzus and other Patristic writers.
Peter W. Bernstein, a partner with Annalyn Swan in ASAP Media, was a consulting editor for this book. Peter has served as an editor at U.S. News and World Report and Fortune magazines. He was also publisher at Times Books and Random House. In addition, he is a bestselling author. He is the creator and currently the editor and publisher of The Ernst & Young Tax Guide. He coauthored The Practical Guide to Practically Everything and co-edited, with his wife, Amy, Quotations from Speaker Newt: The Red, White and Blue Book of the Republican Revolution.
Denise Budd is a graduate of Rutgers University in New Brunswick (B.A.) and Columbia University (Ph.D.). In 2002, she completed her doctoral dissertation on Leonardo da Vinci, a study that focuses on a reinterpretation of the documentary evidence from the first half of the artist's career. Dr. Budd has taught the core curriculum at Columbia University and is currently teaching at Rutgers University, while continuing her research.
David D. Burstein is a high school Latin student, writer, actor, and filmmaker. He also helped to found, and serves as president and chairman of the Westport Youth Film Festival, the leading film festival for high school students. He is currently working on a bipartisan public service documentary, I'm 18 in '08, to encourage young people to vote and become involved in politics. He has written seven full-length plays and appeared in over twenty theatrical productions.
Esther de Boer studies theology at the Free University of Amsterdam and is currently a minister of the Dutch Reformed Churches in Ouderkerk aan de Amstel. She is a widely recognized Biblical scholar specializing in the subject of Mary Magdalene and The Gospel of Mary.
John Castro is a New York City–based writer, editor, and researcher. He has worked on publications by civil rights leader Jesse Jackson, journalist Marshall Loeb, and Internet entrepreneur Charles Ferguson. John is also a theater director, actor, and playwright, with a particular love of Shakespeare. He is a graduate of St. John's College in Annapolis, Maryland.
Keith Devlin is a mathematician at Stanford University in California. He is a fellow of the American Association for the Advancement of Science and a World Economic Forum fellow. He has written over seventy-five published research articles and twenty-five books, and lectures widely throughout the world. He appears regularly on radio and television. Among the books he has written for the general reader are The Math Gene, The Math Instinct, The Millennium Problems, and The Language of Mathematics. He lives in Palo Alto, California.
Jennifer Doll served as research and editorial associate for this book, a role she has carried out for various other books and magazines. She is currently an editorial consultant for Reader's Digest and is working on the forthcoming Secrets of Mary Magdalene. She has also contributed her talents to McKinsey & Company, Continental magazine, and The Teaching Commission. In her spare time, she is a fiction writer, at work on her first novel.
Maureen Dowd was winner of the 1999 Pulitzer Prize for distinguished commentary during the Clinton impeachment proceedings. She became a New York Times op-ed columnist in 1995, having written about the White House and its occupants since the Reagan era. Previously, she wrote the "On Washington" column for the New York Times Magazine. Winner of a number of journalism's most prestigious awards, she has also written for Time, GQ, Harper's Bazaar, Mademoiselle, Cosmopolitan, Good Housekeeping, Ladies' Home Journal, Sports Illustrated, the New Republic, and Redbook, among many other publications. Her latest book, Are Men Necessary?, was published in November 2005.
David Downie is a Paris-based freelance writer, editor, and translator who has recently published a collection of travel essays titled Paris, Paris (www.parisparisthebook.com). For the last twenty years, he has been writing about European culture, travel, and food for American and British magazines and newspapers and, occasionally, for French, Italian, and Dutch publications. His work has appeared worldwide. His latest, critically acclaimed book, Cooking the Roman Way: Authentic Recipes from the Home Cooks and Trattorias of Rome, is about the food and culinary culture of contemporary Rome.
Bart D. Ehrman is the James A. Gray Distinguished Professor of Religious Studies at the University of North Carolina at Chapel Hill, where he has taught since 1988. An authority on the New Testament and the history of early Christianity, he has appeared on CNN, the History Channel, A&E, and other television and radio programs. He has taped several popular lecture series for The Teaching Company and is author or editor of thirteen books, including, most recently, Truth and Fiction in The Da Vinci Code. His previous works have included the critically acclaimed Lost Christianities: The Battles for Scripture and the Faiths We Never Knew and Lost Scriptures: Books That Did Not Make It into the New Testament.
Riane Eisler is a social scientist, cultural historian, and evolutionary theorist. Her books include the bestseller The Chalice and The Blade: Our History, Our Future, a multidisciplinary study of human culture. Her other books include Sacred Pleasure, Tomorrow's Children, and The Power of Partnership: Seven Relationships That Will Change Your Life. Eisler is president of the Center for Partnership Studies, has taught at UCLA, and addressed keynote conferences worldwide.
Marcia Ford frequently writes on religion books for Publishers Weekly and several websites, and is a contributing writer to FaithfulReader.com, a site that reviews books related to Christianity. She is the author of fourteen books, including Memoir of a Misfit: Finding My Place in the Family of God.
Timothy Freke has a degree in philosophy, is the author of more than twenty books, and is an authority on world spirituality. He has coauthored five books with Peter Gandy, including The Jesus Mysteries and Jesus and the Lost Goddess. He lectures and organizes seminars internationally, exploring gnosis or spiritual enlightenment. For more information on Mr. Freke and Mr. Gandy's books and seminars, contact www.timfreke.demon.co.uk.
Peter Gandy has an M.A. in classical civilizations, specializing in the ancient pagan mystery religions. He is especially known for his works on Jesus, written with Timothy Freke, including Jesus and the Lost Goddess and The Jesus Mysteries.
Deirdre Good is Professor of New Testament at the General Theological Seminary of the Episcopal Church in New York City. She has published and lectured widely on Miriamic traditions and the female in Coptic and Gnostics texts. Her latest book is Mariam, the Magdala, and the Mother and she is a contributing editor for The Secrets of Mary Magdalene (2006).
Bernard Hamilton is Professor Emeritus of Crusading History at the University of Nottingham, England. A leading medievalist, he is the author of The Leper King and His Heirs and Crusaders, Cathars and the Holy Places, both published in 2000.
Collin Hansen is an editorial resident with Christian History magazine. With an academic background in journalism and church history, Hansen has covered topics including European secularism, the Iraq war, and Christian higher education.
Susan Haskins is an author, editor, researcher, and translator. She has given lectures around the world, appeared on various television programs to discuss Mary Magdalene, and is currently translating from Italian and editing Three Marian Writings (texts on the life of the Virgin by three sixteenth-century Italian female writers). She is the author of Mary Magdalen: Myth and Metaphor and editor-translator for Three Sixteenth-Century Marian Writings. She is also a contributor to the forthcoming Secrets of Mary Magdalene.
Stephan A. Hoeller, Ph.D., is a bishop of the Ecclesia Gnostica and the senior holder of the English Gnostic Transmissions in America. He is the author of several books, including Gnosticism, Jung and the Lost Gospels, and Freedom: Alchemy for a Voluntary Society. Dr. Hoeller held the chair of Comparative Religions at the College of Oriental Studies in Los Angeles for sixteen years.
Rabbi Asher Jacobson, of the Chevra Kadisha B'nai Jacob synagogue in Montreal, is an executive member of the Rabbinical Council of Canada. Rabbi Jacobson teaches Comparative Religion and Theology at Concordia University, Quebec, and serves as a member of various community organizations in Montreal. He is editor of Judaism from a Woman's Perspective (in two volumes) and he has led a series of talks on Jewish themes related to The Da Vinci Code as well as running classes in Kabbalah and Jewish mysticism.
Katherine Ludwig Jansen is an associate professor of history at Catholic University. She is the author of The Making of the Magdalen: Preaching and Popular Devotion in the Later Middle Ages.
Karen L. King, Winn Professor of Ecclesiastical History at Harvard University Divinity School, is the author of What Is Gnosticism? and The Gospel of Mary of Magdala: Jesus and the First Woman Apostle. Trained in comparative religion and historical studies, she pursues teaching and research specialties in the history of Christianity and women's studies. Her latest books, The Gospel of Mary of Magdala and What Is Gnosticism? have been widely acclaimed. Her particular theoretical interests are in religious identity formation, discourses of normativity (orthodoxy and heresy), and gender studies.
Gwen Kinkead, an award-winning journalist who has contributed to the New Yorker and the New York Times. While an editor at Fortune, she specialized in international business. She co-won the prestigious 1980 George Polk Award for cultural reporting.
David Klinghoffer is the author of The Lord Will Gather Me In and The Discovery of God: Abraham and the Birth of Monotheism. He is also a regular contributor to National Review.
Richard Leigh is a novelist and writer of short stories. With Michael Baigent, he has coauthored a number of books, including Holy Blood, Holy Grail (with Henry Lincoln), The Dead Sea Scrolls Deception, The Messianic Legacy, The Temple and the Lodge, Secret Germany: Claus von Stauffenberg and the Mystical Crusade Against Hitler, The Elixir and the Stone, and, most recently, The Inquisition.
Henry Lincoln began his career as an actor, but by the early 1960s he was writing for television, turning out more than two hundred dramatic scripts. His early fascination with Egyptology (he taught himself to read hieroglyphs) led to an exploration of historical mysteries, mythologies, and comparative religions. Since his imagination was captured by the mystery of Rennes-le-Château, he has presented a number of documentaries for the BBC on other historic mysteries, including The Man in the Iron Mask, Nostradamus, and the Curse of Tutankhamun. He is also a coauthor, with Michael Baigent and Richard Leigh, of Holy Blood, Holy Grail.
Diane Maclean is a correspondent for the Scotsman (Edinburgh.
James Martin, S.J., is a Jesuit priest and associate editor of America, a national Catholic magazine. He is the author of numerous books on religion and spirituality, including the memoir In Good Company: The Fast Track from the Corporate World to Poverty, Chastity and Obedience.
Richard P. McBrien is Crowley-O'Brien Professor of Theology and former chairman of the Department of Theology (1980–91) at the University of Notre Dame. He was also a past president of the Catholic Theological Society of America. McBrien's scholarly interests include ecclesiology, the relationship between religion and politics, and the theological, doctrinal, and spiritual dimensions of the Catholic tradition. Father McBrien's latest books are Lives of the Saints: From Mary and St. Francis of Assisi to John XXIII and Mother Teresa. He is a priest in the archdiocese of Hartford, Connecticut.
Craig M. McDonald, an award-winning journalist and editor, has interviewed numerous authors, including James Ellroy, Anne Rice, Dennis Lehane, Walter Mosley, Alistair Macleod, and Dan Brown. His interviews are featured in Writers on Writing, accessible on the Web at www.modestyarbor.com.
Cathleen McGuigan is a senior editor and national arts correspondent of Newsweek. She received a bachelor's degree from Brown University, where she studied art history. A longtime journalist at Newsweek, she has spent most of her career covering art and design. Her articles have also appeared in the New York Times Magazine, the Smithsonian, and Art News, among other periodicals. McGuigan spent a year as a Loeb fellow at the Graduate School of Design at Harvard University. In addition to her work at Newsweek, she is currently an adjunct professor of journalism at Columbia in New York City.
Brendan McKay is a professor of computer science at the Australian National University. He achieved notoriety a few years ago by debunking the "Bible code" theory.
Laura Miller writes about movies, books, theater, digital culture, and social issues for newspapers and national magazines. Her work has appeared in the New York Times, the San Francisco Chronicle, Harper's Bazaar, and Wired. She is also a senior writer for Salon.com.
Sherwin B. Nuland is the author of Leonardo da Vinci as well as the bestseller How We Die, which won the 1994 National Book Award for nonfiction. His other books have included The Mysteries Within: A Surgeon Reflects on Medical Myth, Doctors: The Biography of Medicine, and The Wisdom of the Body, published in paperback under the title How We Live. He is Clinical Professor of Surgery at Yale University, where he also teaches medical history and bio-ethics.
Craig Offman is a frequent contributor to the Financial Times, and has also written feature articles for Salon, Wired, and Time. He lives in Toronto, Canada.
Lance S. Owens, M.D. is both a physician in clinical practice and an ordained priest who serves a parish of the Ecclesia Gnostica. He completed his undergraduate degree in history at Georgetown University and Utah State University, and received his doctorate from Columbia University. He also maintains the website www.gnosis.org.
Elaine Pagels is the author of the bestselling The Gnostic Gospels, which won the National Book Critics Circle Award and the National Book Award, now available in a new edition. She earned a B.A. in history and an M.A. in classical studies at Stanford University and holds a Ph.D. from Harvard University. Professor Pagels is the author of Beyond Belief, another bestseller, as well as Adam, Eve, and the Serpent and The Origin of Satan. She is currently the Harrington Spear Paine Professor of Religion at Princeton University.
Lynn Picknett and Clive Prince are writers, researchers, and lecturers on the paranormal, the occult, and historical and religious mysteries. Their book The Templar Revelation is a bestseller and served as an important source for Dan Brown's book. With Prince, Pinknett also has co-written Turin Shroud: In Whose Image? The Truth Behind the Centuries-Long Conspiracy of Silence, which propounded the thesis that it was Leonardo who staged the revered shroud as a hoax. Picknett wrote Mary Magdalene. She and Prince live in London, England.
Lewis Purdue is a New York Times bestselling author with twenty books to his credit, which together have sold 3.5 million copies. His books include The Da Vinci Legacy, Daughter of God, Slatewiper, and most recently Perfect Killer. Purdue has taught journalism at UCLA and Cornell, founded four companies, including a wine company, a magazine, and two technology firms. He has been a top aide to a US senator and governor, run political races for Congress, worked as a Washington correspondent and as a columnist for Gannett, the Wall Street Journal Online, CBS Marketwatch, and TheStreet.com. He also writes book reviews for Barrons. His website is ideaworx.com.
James M. Robinson is Professor of Religion Emeritus, Claremont Graduate University, and general editor of the Nag Hammadi Library. As one of the world's leading authorities on early Christianity, he supervised the team of scholars and translators who brought the Nag Hammadi finds to life.
David A. Shugarts, a journalist with thirty years' experience, has served on newspapers and magazines as a reporter, photographer, desk editor, and editor-in-chief. His fields of expertise include aviation and marine writing. He has received five regional and national awards from the Aviation/Space Writers Association. He was the founding editor of Aviation Safety magazine in 1981 and of Powerboat Reports in 1988. He is an integral part of the Secrets series and, in addition to the essays that appear in this book, he contributed significantly to Secrets of Angels & Demons. In 2005, he wrote Secrets of the Widow's Son, a unique prequel to Dan Brown's next book, titled The Solomon Key.
Margaret Starbird holds a master's degree from the University of Maryland and has studied at Christian-Albrechts University in Kiel, Germany, and at Vanderbilt Divinity School. In great demand as a leader of workshops and media commentator, she has written extensively on the concept of the sacred feminine. Her books—which Dan Brown acknowledges as having had a strong influence on his exploration of the same theme—include Magdalen's Lost Legacy: Symbolic Numbers and the Sacred Union in Christianity, The Goddess in the Gospels: Reclaiming the Sacred Feminine, The Feminine Face of Christianity, and The Woman With the Alabaster Jar: Mary Magdalen and the Holy Grail.
Annalyn Swan, a partner with Peter Bernstein in ASAP Media, served as a consulting editor to this book. A professional writer and editor, she has been a staff writer at Time, music critic and arts editor of Newsweek, and editor-in-chief of Savvy. With the art critic Mark Stevens, she has also written a biography of the artist Willem de Kooning, which won a Pulitzer Prize for biography in 2005.
David Van Biema is a senior writer for Time magazine, specializing in religion.
Curtis White is a social critic and essayist whose work appears regularly in Harper's, the Village Voice, and These Times. He is also the author of The Middle Mind: Why Americans Don't Think for Themselves and the novel Memories of My Father Watching TV. He is now working on a book on the spirit of disobedience in American culture, forthcoming in the spring of 2007.
David Wilk was a consulting editor for this book. He has worked in the book business in many capacities, including writer, editor, publisher, and distributor. He was Literature Program Director for the National Endowment for the Arts and is currently a senior executive at Resolution, Inc. in South Burlington, Vermont.
Kenneth L. Woodward, a contributing editor at Newsweek and frequent writer on religion, is the author, most recently, of The Book of Miracles: the Meaning of the Miracle Stories in Christianity, Judaism, Buddhism, Hinduism and Islam.