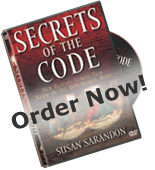 JUST RELEASED! Secrets of the Code Documentary DVD, narrated by Susan Sarandon, directed by Jonathan Stack.
Actress Susan Sarandon narrates this visually-provocative documentary based upon New York Times best-selling author Dan Burstein's book "Secrets of the Code," which takes a look at the controversy surrounding the best-selling book and blockbuster film "The Da Vinci Code." Secrets of the Code is a sweeping exploration of some of the world's greatest mysteries. This feature-length documentary includes interviews and commentary by renowned scholars, theologians, scientists and historians, including Timothy Freke, Richard Leigh, Sean Martin and Elaine Pagels.
To play these video previews, download the QuickTime player if you don't already have it.
On Mary Magdalene