The Secrets Series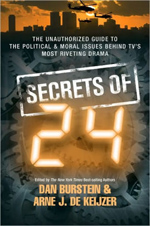 Secrets of 24
The Unauthorized Guide to the Political & Moral
Issues Behind TV's Most Riveting Drama
by
Dan Burstein and Arne de Keijzer
Every week for nine seasons as many as 15 million people gathered around their 21st century digital hearths to engage in the most riveting, compelling, addictive cultural thrill ride known to postmodern pop culture: The television series '24'. And although Jack Bauer has been retired, the spin-offs have multiplied and the issues raised have become more important than ever.
Teenagers, boomers, and octogenarians all found it powerfully compelling. So did Democrats and Republicans, liberals and conservatives, the PBS crowd and the NFL crowd, the heartland and Hollywood, American war-on-terror hawks and European marchers-against-American-hegemony doves. Donald Rumsfeld was a noted fan, but so too were Barbra Streisand and Bill Clinton.
'24' has been the subject of cover stories or in-depth commentaries in publications ranging from The New Yorker to USA Today, and from dozens of bloggers who follow the show to Time magazine. The political and cultural pundits who have commented on our national Rorschach test about terrorism range from the New York Times columnist Maureen Dowd to Wall Street Journal editorial writer Dorothy Rabinowitz; from the witty Sarah Vowell to the sober defense chief, Michael Chertoff; from postmodern intellectual guru Slavoj Zizek to the blogger Judith Warner, whose beat includes motherhood and childrearing. Even Kiefer Sutherland has insightfully commented on the show.
Secrets of '24': The Unauthorized Guide to the Politics, Moral Philosophy, and Technology Behind the Most Riveting Show in TV History leverages the broad public fascination of the show to pursue real issues of great importance and relevance to our times?from whether torture is ever justified to the individual rights we may have to sacrifice in the face of terrorism.
The scope of the book includes "big think" issues, complemented by a survey and analysis of the technologies and methods that drive the suspenseful plots. It combines original interviews and commissioned essays from leading political figures, cultural commentators, celebrities, and technology, security and terrorism experts with carefully selected anthologized op-eds and essays. It draws on the model successfully established with Secrets of the Code and three other "Secrets" books, which have more than four million copies in print worldwide and have been on more than a dozen international bestseller lists (including the New York Times, Wall Street Journal, Publisher's Weekly, and USA Today).
Secrets of '24' offers an exciting, engaging, and highly informative read for all those who are fascinated with the series and recognize its impact on our national psyche. It is the essential companion to understanding the issues '24' raises, the action that propels it, and the many ethical and moral issues that are on the line in this time of terrorism.
For the full table of contents, click here.
For the full list of contributors, click here.