The Secrets Series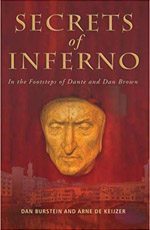 Secrets of Inferno
In the Footsteps of Dante and Dan Brown
by
Dan Burstein and Arne de Keijzer
Dan Brown's Inferno dominated the best seller lists all over the world and, as with his previous novels, the plot is propelled by artistic, historical, literary, scientific, and political landmarks that leave readers curious to know more. In their SECRETS OF INFERNO: In the Footsteps of Dante and Dan Brown, Dan Burstein and Arne de Keijzer lead fans of Inferno on a sweeping tour, guided by renowned experts, through the many provocative ideas raised in the Dan Brown novel.
Just as they have with Brown's The Da Vinci Code, Angels and Demons, and The Lost Symbol, Burstein and de Keijzer provide the deep background that Dan Brown does not. Secrets of Inferno sifts reality, speculation, fact, and fiction to reveal the most valuable ideas behind the book's themes and characters.
The story of Dante Alighieri and his Divine Comedy - as well as the history of medieval Florence - is the jumping off point for Dan Brown's novel. Burstein and de Keijzer have brought together some of the world's leading scholars to provide insight and commentary on Dante. SECRETS OF INFERNO also presents essays and interviews with leading scientists and technologists in other key fields referenced in Dan Brown's book, including population control, pandemics and deadly viruses, and the transhumanist movement.
Among the contributors are:
Teodolinda Barolini, Da Ponte Professor of Italian, Columbia
Steven Botterill, Associate Professor of Italian Studies, U.C. Berkeley
Jamais Cascio, Institute for the Future
Joel E. Cohen, Abby Rockefeller Mauz - Professor of Populations at The Rockefeller University
Alison Cornish, Professor of Italian, University of Michigan, Ann Arbor
Paul Ehrlich, author of the landmark book The Population Bomb
Laurie Garrett, Senior Fellow for Global Health at the Council on Foreign Relations
Giuseppe Mazzotta, Sterling Professor in the Humanities, Yale
Gregory Stock, biophysicist, UCLA School of Medicine
Natasha Vita-More, author of the "Transhumanist Manifesto"
The book also includes an extensive photographic folio of Florence from fine art photographer and photojournalist Julie O'Connor.
Dan Burstein and Arne de Keijzer are the world's leading experts on Dan Brown's fiction. Beginning with their path-breaking Secrets of the Code, which spent six months on the New York Times bestseller list in 2004, and continuing through four other guidebooks to Dan Brown's fiction (as well as three film documentaries and two special editions of US News), Burstein and de Keijzer have sold more than three million copies of Dan Brown-related commentaries in more than thirty languages.
For more on the book, an exclusive book-related series of photographs of Florence, and the latest opinion and analysis, please visit https://secretsofinferno.wordpress.com/category/inferno
For the full table of contents, click here.
For the full list of contributors, click here.