The Secrets Series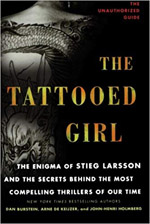 The Tattooed Girl
The Enigma of Stieg Larsson and the Secrets Behind
the Most Compelling Thrillers of Our Time
by
Dan Burstein, Arne de Keijzer and John-Henri Holmberg
Authors Dan Burstein and Arne de Keijzer team up with Stieg Larson's long-time friend John-Henri Holmberg to write The Tattooed Girl: The Enigma of Stieg Larsson and the Secrets behind the Most Compelling Thrillers of Our Time, an essential companion to the Millennium trilogy. Packed with many revelations about Larsson and his work, The Tattooed Girl offers an authoritative look into what have been rightly called "the hottest books on the planet" - The Girl with the Dragon Tattoo, The Girl Who Played with Fire, and The Girl Who Kicked the Hornet's Nest.
In the mold of the world-wide best-selling "Secrets Series," including the original Secrets of the Code, the book is a reader's guide to the Millennium trilogy that includes original essays, interviews, and permissioned pieces.
Through insightful commentary and revealing interviews, you will enter the unique world of Lisbeth Salander, Mikael Blomkvist, and Stieg Larsson himself, providing a fascinating view of the author's life story, his inspirations, his feminism, and his dystopian views of Swedish society.
The book includes a variety of reviews and essays by leading critics and commentators, interviews with today's leading Swedish crime writers, and insights from many of those who knew Stieg Larsson-- particularly John-Henri of course.
Included are answers to questions on every fan's mind:
What makes the Lisbeth Salander character so unique and memorable?
Why have so many people from all backgrounds and with all kinds of tastes found The Girl With the Dragon Tattoo so riveting?
What changes were made in the plots and translations of the novels after Larsson's death - and why?
What were Larsson's ideas for the fourth book, and are there any clues to the plots he imagined for his ten-book series? Will we meet Lisbeth's twin sister, Camilla, or any of her other seven siblings that Zalachenko tells her she has?
What are the speculations - and what is the truth - about Stieg Larsson's tragic death at age fifty, just before the publication of his novels, and the bitter battle over his legacy?
How did Larsson's early interest in science fiction and American and British crime writers feed into his creation of the Millennium trilogy?
What will happen in the contentious battle between Stieg Larsson's life partner, Eva Gabrielsson, and his father and brother over the future of the books, as well as the billion dollars at stake in his legacy?
For more on the book, an exclusive book-related series of photographs of Stockholm, and the latest opinion and analysis, please visit https://thetattooedgirl.wordpress.com
For the full table of contents, click here.
For the full list of contributors, click here.